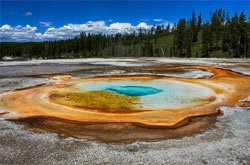 Yellowstone National Parks are worth a visit. It is our countries legacy. There's no better way to bond with the family and enjoy the great outdoors. Most National Parks have something unique to become a designated National Park. Yellowstone is beyond special, it is the world's first national park. It is over 2.2 million acres packed inside an ancient caldera. Geysers, waterfalls, wildlife and scenic beauty. All these wonders are at every turn. This guide will help you plan your Yellowstone trip to be more efficient with less stress so that you'll hopefully have a satisfying vacation/trip. Nothing is worse than unexpected complications while on vacation. For those that prefer to wing it, you're probably not reading this or just looking for reservations, in that case have a great journey and go for it.
Let's begin, you probably know about Yellowstone whether from TV, books, the internet or a combination of these and now it's time to get serious and actually plan your trip. As we previously mentioned, there's a lot to see so grab a notebook, laptop or Smartphone.... something to take notes. There are a lot of attractions you don't want to miss.
- Next obtain maps either paper and/or digital. You don't want to get lost in Yellowstone. There are 5 entrances/exits to Yellowstone with 5 gateway communities. This makes it convenient to either stay in or out of the park and/or use another exit on your way home.
- Purchase a Yellowstone DVD. We recommend, "The Wonders of Yellowstone DVD " but there are a few others that are also informative. We feel a Yellowstone dvd is more effective than Youtube or a website. It's great chance to get the family all in one spot, nuke some popcorn then plan and enjoy your next vacation together. The DVD is a crash course on everything Yellowstone. Things you must see (all the highlights) and things to avoid with the amount of time you have available. Being flexible allows you to spend more time in a certain part of the park more than others. The DVD will show you those areas. This is where your note device becomes practicable. While watching the DVD, take notes on everything mentioned is this planner and your trip will become much more pleasurable and efficient.
- Be aware of road construction delays during the spring/summer/fall months. Road construction can take hours out of your day. Be prepared to travel around these delays and still get to your destination.
- For those families and people that must have contact to the outside world, you're still in luck. Yellowstone National Park does have cell service, just not everywhere. Cell service is currently limited to areas of Canyon, Grant Village, Mammoth Hot Springs, and Old Faithful. Wi-Fi is prohibited in the Old Faithful Inn and the Lake Hotel in order to preserve the historic lodging experience. Xanterra will be permitted to offer Wi-Fi service in other park lodging and general stores. Yellowstone's planning is to actively promote the courteous and respectful use of cell phones and Wi-Fi devices and to establish and sign "cell phone free zones" in the park.
- Gas is available at all the gateway communities. Gas stations in the park are located at Mammoth Hot Springs, Canyon Village, Grants Village, Fishing Bridge and Old Faithful.
- Only two park roads are plowed in the winter and remain open for wheeled-vehicle use:
They are maintained only during daylight hours and may close during severe storms. Expect snowpack, ice, frost heaves, drifts. Mud/Snow tires or tire chains may be required and are recommended always. Speed limit for all vehicles is 45 mph (73 kph), or lower where posted - such as from North Entrance to Mammoth. Do not stop on the road or block traffic when viewing wildlife or scenery. Use pullouts. Trails and overlooks may be snow-covered, icy, and dangerous. Obey all trail closures. Walk cautiously at all times and watch your children.